---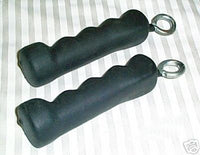 We have virtually ALL Grips in Stock from Standard - with and without our Custom Cores - (also sold separately) to these - 1/2 lb - a full 8oz. each vs. less than 1 oz each for most standard grips ! Beefy ! Knobby !   A Solid - Firm - Weighted Grip !
Please also see the Original Fitness and Cross Country upgrade grips too ! Confused and not sure what to order? eMail - Chat - Phone or Text us Anytime !
 Weighted Grips - 1/2 lb weights and are solid - knobby grips with cord eyelet on the top.  1-Lb Grips - Please Inquire about current availability.
Cross Country Grips were standard on the 15th Anniversary Medalist Skier ! Smooth - Solid Core Grips for a Firm Feel and Nylon Wrist Strap just like REAL Cross Country Skiing !
Fitness Grips have flared top and bottom handles for a sure 'no slip' grip and a wider - adjustable strap !
Also ask about our Elite Grips ! Hard plastic with protruded finger grips which were standard on - you guessed it - The Elite Skier ! The World's Best Aerobic Exerciser of All Time.
Pro Plus - Achiever Plus and Medalist Plus Grips Also Available. Standard Wood Series Skier Grips and Plus Series - 900 and Sport Grips are also interchangeable.
Standard Grips came in both SMOOTH - SLICK - SOFT BLACK RUBBER - and later - TEXTURED - MATTE - HARD PLASTIC --- but both these versions had thin grips with a hollow core.
Introducing the solid core insert ! FIRM UP with Nordic Fitness Ski Machines solid core inserts! These prolong grip life by preventing the cord from coming loose or falling out and from tearing thru the cord hole --- all while giving you a firm grip that will withstand maximum resistance!