---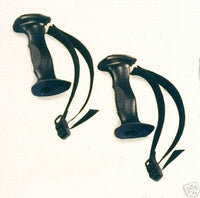 We have many Grips in Stock from Standard to Custom.  Flared Top & Bottom 3.3oz Grip with thick - adjustable Nylon Wrist Strap!  Fitness Grips have flared top and bottom handles for a sure 'no slip' grip and a wider - adjustable strap! *
To learn more about NordicTrack Arm Exerciser Ski Grip Options and Availability Click Here.
OEM NordicTrack Ski Machine FITNESS GRIPS.   The most popular original NordicTrack USA Ski Machine GRIP.  See also original OEM 1/2 pound or full pound weighted Grips for added workout & strength weight resistance benefits,
* Nordic Fitness Ski Machines may substitute a better Velcro padded R - L handed wrist strap.