---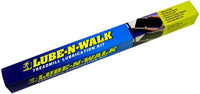 Reduces friction, wear and costly parts & repairs. The 'Belt Butter' silicone based spread that goes on the deck easy with clean and smooth results. We recommend ordering the CLEANING KIT before you apply lubrication.
Complete with instructions & Handy applicator wand. Quick and Easy. A full 6 month supply with no muss or fuss !
Meets and Exceeds most manufacturers requirements and works on virtually every treadmill model and make.
Exceptional results for manual treadmills like the NordicTrack Walkfit Classic Pro - 4000 - 5000 and more !
Call or write me anytime. I am always happy to hear from you - answer your questions and can take your order quickly right over the phone. Ask why the NordicTrack Ski Machine is still the 'World's Best Treadmill'.
This Standard Kit Includes;
6 Month Supply of Lubricant 
22" Cleaning Wand for WIDER Belts 
Instruction Guide 

 

------------------------------------------------------

 
Easy to Use 
Mo Messy Hands 
Removes Dirt 
Reduces Costly Repairs 
Prolongs Motor Life 
Prolongs Belt Life 

 

----------------------------------------------------------

 
Facil de Usar 
No Ensucia las Manos 
Elimia el Polvo 
Reduce Reparaciones Costosas 
Prolonga la Vida del Motor 
Prolonga la Vida del Cinturon 

 

------------------------------------------------------------

 
Facile a Utiliser 
Garde vos Mains Propres 
Enleve la Poussiere 
Reduit les Reparations Couteuses 
Prolonge la Duree du Moteur 
Prolonge la Deuree du Tapis Roulant 

 

Complete Instruction Guide ! --- Doc Says: Yes: It will work on any other Treadmill requiring silicone deck lubricant. If you need a paraffin or other type of lubricant or have Treadmill related questions - please inquire !

 Nordic Fitness Ski Machines carries ALL 6 different Treadmill Lubrication & Cleaning Care Kits; 

Lube N' Walk Lubrication Kit

Clean N' Walk Deluxe Cleaning Kit

Lube N' Walk Health Club / Commercial Lubrication Kit

Clean N' Walk Deluxe Health Club / Commercial Cleaning Kit

Protect N' Walk Super Deluxe Treadmill Care Kit

Deluxe Treadmill Maintainance Kit

 

 

Sold and Recommended by Leading Treadmill Manufacturers like these...

 

Athletic Tech

Athion

Bow Flex

Body Guard

Diamond Back

Everyoung

Fitness Quest

Health Rider

Horizon

Icon

Ironman

Key's

Leisure Works

Landice

Life Fitness

Nautilus

New Balance

NordicTrack

Phoenix

Schwinn

Sole

Spirit

Sport Art

Theradyne

Treadclimber

Trimline (Hebb Ind)

True

Tunturi

Universal

Vision Fitness

Universal

Workout Warehouse (DP Roadmaster)

 

& Many More !