---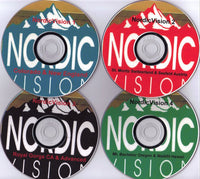 FREE Disk #1 with Every Ski Machine Purchase ! Buying the set here saves you $30. Sold Exclusively and only available from Nordic Fitness Ski Machines ! Finally the COMPLETE series on DVD !
The entire set with easy access to TWICE the workouts than on just one VHS (which retailed for $24.99 each in the 1990's) --- PLUS the Original NordicTrack Training Presentation & NordicVision in Hawaii for Walkfit Treadmills (Walkfit Switzerland is forthcoming !)
Call or Text NordicDanny Anytime - 24 / 7 --503.580.2000 ---- or write me via eMail at NordicFitnessSkiMachines@comcast.net. VISA - MC - AMEX or DISCOVER by e-Mail or Phone -- Pay Pal too !
Price is for the complete original SERIES on DVD ! Includes Intro to NordicTrack & Training Presentation as listed below... each disk sold separately or get the complete set & SAVE. Optional VHS available on some titles too for $12 ea.
All DVD's have at the beginning ...
Menu: > NordicTrack Classic Introduction: (approx. 10 min)
> NordicTrack Training Segment (approx. 15 min)
--------------------------------------------------------------------
DISK ONE Menu > Colorado - 3 Complete workouts;
> #1 - 15 Min. Workout (Aspen)
> #2 - 15 Min. Workout (Telluride)
> #3 - 20 Min. Workout (Steamboat)
DISK ONE Menu > New England - Maine & Vermont - 2 Complete Workouts;
> #1 - 20 Min. Workout (Sugarloaf Maine)
> #2 - 30 Min. Workout (Stove Vermont)
----------------------------------------------------------------------
DISK TWO Menu > St. Moritz Switzerland - 3 Complete Workouts;
> #1 - 15 Min. Workout
> #2 - 15 Min. Workout
> #3 - 20 Min. Workout
DISK TWO Menu > Seefeld Austria - 3 Complete Workouts;
> #1 - 15 Min. Workout
> #2 - 15 Min. Workout
> #3 - 20 Min. Workout
-----------------------------------------------------------------------------
DISK THREE Menu > Royal Gorge California - 3 Complete Workouts;
> #1 10 Min. Workout
> #2 15 Min. Workout
> #3 20 Min, Workout
DISK THREE Menu > Advanced Volume One - 2 complete workouts;
> #1 - 27 Minute Workout
> #2 - 30 Minute Workout
-------------------------------------------------------------------------------
DISK FOUR Menu > Mt. Bachelor Oregon - 3 Complete SKI workouts;
> #1 - 10 Min. Workout
> #2 - 15 Min. Workout
> #3 - 20 Min. Workout
DISK FOUR Menu > NordicVision Walkfit - Hawaii - 2 Complete WALK Workouts;
> #1 - 25 Min. Workout
> #2 - 30 Min. Workout
-----------------------------------------------------------------------------------