---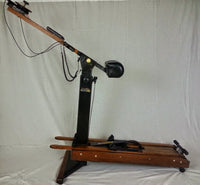 The One - The Only 

TOP OF THE LINE Executive Model Skier!
Pneumatic Height Adjustment Rock Solid Stable Platform (similar to the Health Club 900 Models)
A Fine Furniture Quality Skier with a Better than New fresh coat of Natural Danish oil hand-applied...
Original Cost was over $1,500 which translates to over $3,500 today!
The Elite is as beautiful as it is functional. 2 new coats of Natural Danish oil have been hand applied to protect the Original Beauty & Lustre. (per original manufacturer specifications) The wood on all NordicFitnessTrack skiers is refinished and then we follow up with a polisher and wood conditioner. We don't always have an Elite in stock, so there is never a guarantee this one will be available tomorrow!
All NordicFitnessSkiMachines come with a full 1 (One) Year Bumper to Bumper Warranty and Full 5 (Five) Year Drive Train Warranty.
We're available 24 / 7; Health Line and Customer Service Support Phone & Text: 503.580.2000. We're also available by e-Mail, Web Site Live Chat or Facebook! Our skiers are done one-at-a-time and since it's all we do, each machine is custom and made to order.
Each Elite is RARE and ours are 'Better than New' - Totally Refurbished -Reconditioned - Restored and Refinished! I personally test every skier extensively in an actual 45-minute workout, so you can be assured of getting years in trouble-free performance. You simply will not find a better deal on this machine at any price! If you are thinking of paying $700- or more for a cheaply made knock-off Pro at Sears or NordicTrack - think again, you can own one of the Original USA Better Built Machines Delivered Direct to your Home!
Standard Pro (Original Quality Workhorse Cleaned - Refinished and Tuned to NordicFitnessSkiMachines Specs).
Achiever Pro  (Essentially a "Pro" with calibrated resistance gauges)
15th Anniversary Medalist (Achiever with Beautiful Custom Design Look)
This ELITE - NordicTrack's "Executive" Top-of-the-Line Ski Machine.  

Original and 'Better than New' & Custom NordicTrack Ski Machines is all we do - Over 20 Years of Expertise and Building a Better than New Ski Machine.

This NordicTrack ELITE skier will come complete with a computer monitor/speedometer/ pulse heart rate module. SETTE Sports Bottle Holder and SPECIALIZED Sports Water Bottle will complete the ensemble which adds another NordicFitnessSkiMachine Custom Exclusive & Custom Fit.

This was NordicTrack's Top-of-the-Line "Executive" Skier for People who wanted the Absolute Best!

With rich solid Walnut and black aluminum construction, as well as virtually every feature you could want in an in-home aerobic exerciser, NordicTrack's Elite is definitely top-of-the-line.

A pneumatically-controlled elevation adjustment allows you to automatically raise and lower the front of the machine to simulate level or uphill skiing and vary the intensity of your workout. Upper and lower body resistance settings are calibrated, so you can measure the resistance you're working against in pounds or kilograms.

Round tipped skis and polished brass accents make the full-featured Elite a beautiful way to gain aerobic conditioning. (We have NEW original brass and replace as needed).
Legendary patented flywheel gives you fluid motion, the most realistic simulation of cross-country skiing.
Leather-like Contour Nortex hip pad adjusts to any position for added comfort.
Convenient handlebar support lets you warm-up or cool down by simply working your legs
Handy rear wheels allow for easy transport

 

Distinguishing Features:
Patented adjustable upper-body resistance indicator and a calibrated lower-body resistance indicator displays your resistance in pounds and kilograms.
Pneumatically-controlled elevation feature lets you 'ski uphill'
Workout computer displays exercise speed, distance, time, calories burned and pulse rate so it's easier to plan your workouts and chart your personal progress, all with the push of a button
Round-tipped skis and polished brass accents are finishing touches.
Rich, solid walnut / hand-rubbed Danish oil finish
Contoured ski hand grips make your workout comfortable.
NEW Foam Padded Stationery Hand Grips as Rail Pads are now standard on this skier!
Original Price: OVER $2,500- (adjusted for inflation).

 

ELITE and 900 SKIERS SHIP USA ONLY: Shipping within USA via Fed-Ex unless special international arrangements are made. Please know All Other Model Skiers are available via Fed-Ex International and will generally arrive within 2 weeks of your order!